Video editing software doesn't have to be expensive. Whether you're an experienced home videographer or making your first foray into film making, some of the best video editing software is yours to download and use completely free.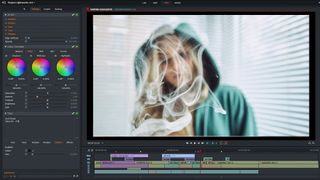 1. Lightworks
Puts professional quality tools within the reach of everyone – regardless of budget. The best free video editor available
+ Advanced editing tools
+ Real-time effects
+ Well designed interface
Lightworks is an incredible tool that's published free with the noble aim of making professional quality video editing software available to everyone.
Lightworks is far more than a simple application for combining video clips and applying filters; it's been used to produce Hollywood movies including The King's Speech and Road to Perdition.
As you would expect for such a powerful video editor, you won't be able to master it overnight, but that's certainly not something you could hold against it.
Lightworks is described as the professional video editor for everyone, and we reckon that's a fair summary. Despite its power, it will run well on fairly modest hardware, and it handles video capture and advanced editing with aplomb.
If you've tried other free video editors you'll probably find that the interface is a little different to anything you're used to, but you can arrange the various controls and windows to create something that suits your way of working.
2. Hitfilm Express
A powerful free video editor that's expandable if you outgrow it
+ Professional-grade tools
+ Expandable via add-one
– High system requirements
Hitfilm Express is another video editor that promises pro-level features for free – and it delivers. The basic editor is very impressive, with advanced cutting tools, a great set of audio and video filters, layers and masking, compositing options, and chroma keying for creating green screen effects.
Additional tools are available for a fee, starting at £8.85 (about US$10, AU$15) for a pack featuring color-correction, exposure adjustment, split screen masking, and various creative filters.
The downside of all this power is that Hitfilm Express is much more demanding than either Lightworks or Shotcut, which is the main reason it's dropped to third place. Make sure you check the technical requirements before downloading it to avoid disappointment.
3. DaVinci Resolve
Premium quality software for advanced video and audio editing
+ Well designed toolkits
+ Full audio mastering suite
+ Advanced color correction
– Free version lacks a few features
DaVinci Resolve is a free version of a premium video editing suite, but as with Lightworks, it's so feature-packed you probably won't miss the few tools it lacks.
DaVinci Resolve is a professional-grade video editor, with intuitive interfaces for editing, color correction, audio mastering and exporting. There's the usual multi-track timeline for arranging video and audio clips, plus context-sensitive trimming, and a vast collection of filters and effects.
Color correction is one of DaVinci Resolve's standout features, whether you want to adjust a whole video or just a selected part. There's HDR support, and you can work on raw files directly from your camera.
A few of the filters are exclusive to the premium DaVinci Resolve Studio, and there's a maximum export resolution of 3,840 x 2,160, but those are the only limitations. It's overkill if you just want to trim a video and upload it to YouTube, but for bigger projects DaVinci Resolve is hard to beat.